About Us
OUR STORY
It all began in 2006 when Art for Film's founder and director, Jessica Heyman, was working in the art department of the movie Enchanted. She recognized that set decorators had a need for high-quality artwork for use as background set decoration. Jessica already had deep and diverse connections in the art world and she realized that she was perfectly positioned to address that need, so she launched Art for Film later that year.
An industry innovator since its inception, AFF is distinguished by the range and caliber of its artists, many winners and recipients of prestigious grants, fellowships and residencies such as the Guggenheim Fellowship, the Pollock-Krasner Foundation, Yaddo, MacDowell, Skowhegan, Omi, NYFA and many others. Due to the quality and breadth of the art, superb client service, and the ability to print on demand, AFF has since grown to be the largest and most trusted East-Coast-based company of its kind, placing artwork in thousands of films, tv shows, and commercials both nationally and internationally. AFF has also expanded into art consultancy offering custom artwork solutions for corporate needs, the hospitality space, special events, and high-end property stagings, as well as selling original artwork and prints directly to the general public, and film and tv fans.
Despite tremendous growth, AFF has remained true to its founder's values. Not only is the company fully woman-owned and operated, but since its inception the vast majority of the more than 120 exceptional artists that it represents, and whose careers it supports, are women and artists of color – a rare exception in the art world.
PERSONAL BIO
Born and raised in NYC, with some formative years in Oakland, CA, Jessica grew up in the epicenter of the counter-culture, surrounded by iconoclasts, artists, and revolutionary thinkers and activists. After studying Urban Affairs and Dance on scholarship at Columbia University, Jessica lived in Spain for a couple of years and then worked in social justice and education before pivoting into film. But wherever she was, she always found herself surrounded by artists and creatives. She currently lives in New York City with her painter husband and their teenage twin daughters - one an aspiring artist and the other an aspiring cellist.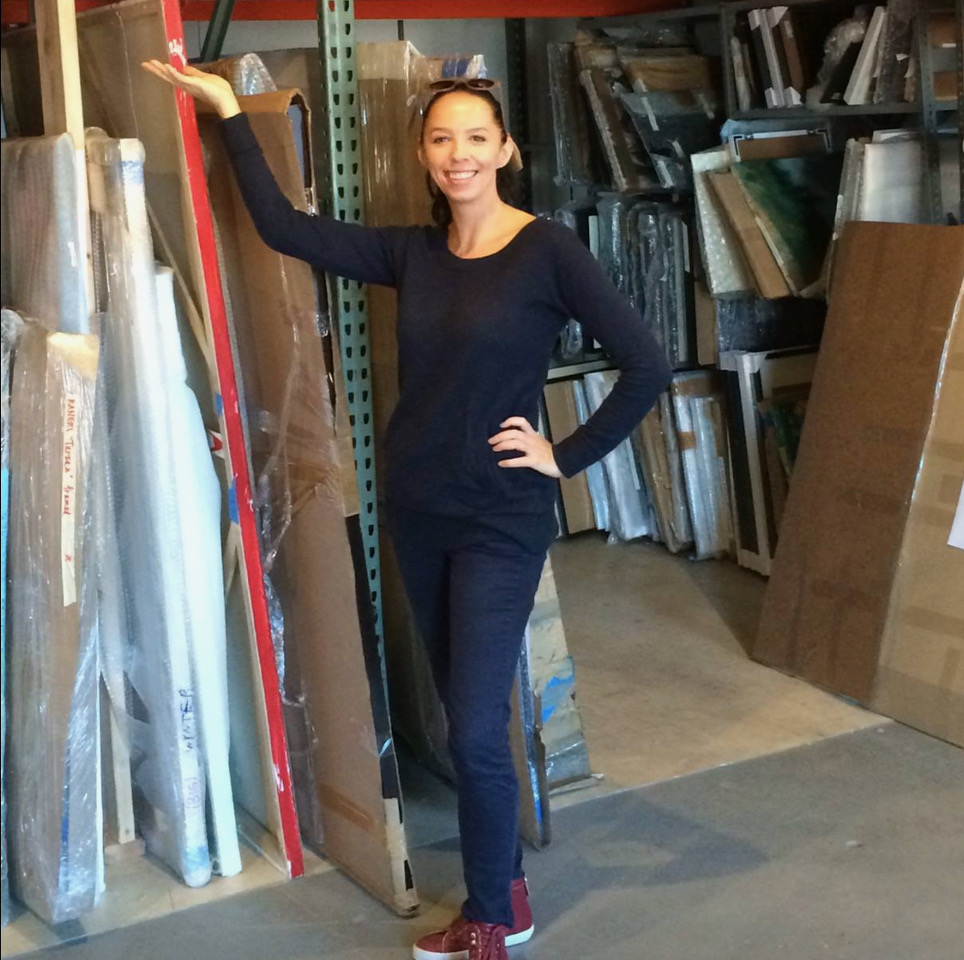 Jessica when we first moved into our warehouse at the Brooklyn Navy Yard
VISIT US
Visit Us
Monday - Friday | 9am - 4pm
and by appointment
Artist submissions should be sent with images or links to studio@artforfilmnyc.com. No phone calls, please.
All artwork pick-ups, deliveries and returns to our warehouse unless otherwise indicated